There's no denying that digital distribution has profoundly shaped the game industry in recent years. What was once sold on discs and cartridges in stores -- severely limiting the number of pub...
ucabal2 - Game key reseller G2A offers transparency, royalties to developers after scam accusations
There's no denying that digital distribution has profoundly shaped the game industry in recent years. What was once sold on discs and cartridges in stores -- severely limiting the number of published titles to those who could afford the printing and manufacture costs -- now sits on a server, easily accessed by millions with something as simple as a 16 digit code.
Game keys (sometimes called product codes, redemption codes, etc) are useful both for customers, who want a painless way to download a game from home, and for publishers, who want to quickly disseminate copies of their games with the lowest possible impact to resources. Tied in with the now-common practice of bundling, in which keys for a handful of titles are sold together at a discount, and you have a system by which to move thousands of units at a fraction of the cost of physical media.
But there are some major downsides to digital distribution and game keys as well, namely the sheer volume of keys that publishers distribute for promotional or bundling purposes. These can wind up as lost sales for publishers, but it's generally accepted as a trade-off, a way of getting your game into the hands of players and reviewers to create buzz and, hopefully, more purchases.
There's another wrinkle here, however, and it's that many game keys are unwanted and go unredeemed. Sites like G2A serve as online marketplaces for individuals to resell these unwanted keys for a fraction of a game's list price -- a small profit for the seller, and a deep discount for the buyer. But suppose you have folks who buy up keys for your game in bulk with the idea to resell them en masse, turning a tidy profit for themselves but leaving you, the publisher or developer, with nothing. That's pretty shitty, right?
That's what tinyBuild, an independent publisher behind small games like SpeedRunners and Clustertruck (above), argues has happened with keys for its titles. In an email with Eurogamer, CEO Alex Nichiporchik alleges that resellers on G2A have cost the company around $450,000 in lost sales. The site, Nichiporchik contends, "facilitates a black market economy" using a "fundamentally flawed" business model.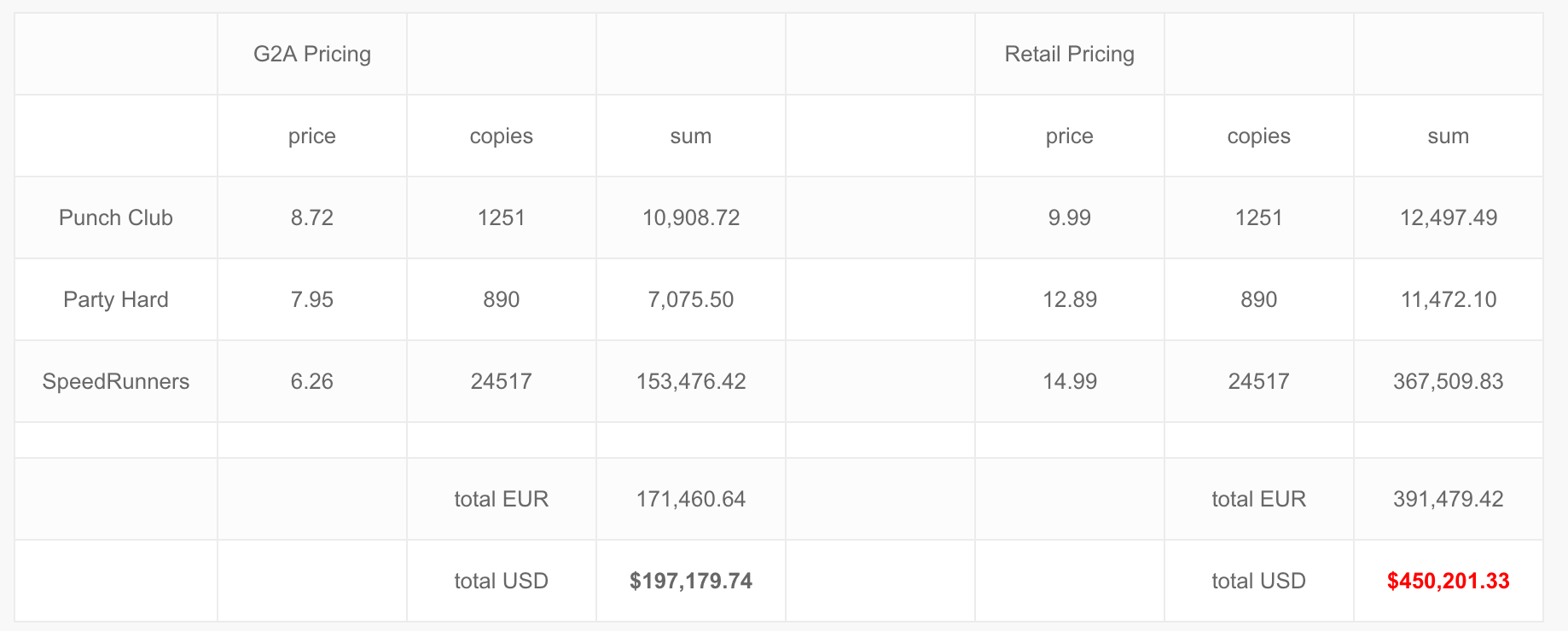 tinyBuild's breakdown of its $450,000 figure based on three of its games (picture via Eurogamer).
When tinyBuild reached out to G2A asking for a cut of the revenue for its game keys, G2A responded with a big, fat "no." G2A's position was that since it doesn't actually take a cut in sales, just "kickbacks from our payment providers," tinyBuild should take the issue up with resellers, rather than the site.
To say G2A's response has sparked an outcry -- especially among small, independent devs and publishers already operating with limited resources and low overhead -- would be an understatement. Over the last few days, G2A and tinyBuild have gone back and forth, disputing the latter's $450,000 figure and drumming up discussion about the legality (and morality) of gray marketplaces. Here's Lars Doucet (Defender's Quest) with his take:
For the #gamedev crowd:
G2A, Piracy, and the Four Currencies.https://t.co/TAzFD36EEp pic.twitter.com/ITqulRh3Nt

— f'(Lars Doucet) (@larsiusprime) June 28, 2016
Now, as of this afternoon, G2A has reversed its position, offering publishers a 10% royalty on third party auctions and access to its databases to track sales, volume, and timing over the lifetime of a title.
"Recent events have demonstrated that we need to move faster to introduce new benefits designed with developers in mind, and invite them to play an even bigger role in creating the marketplace of the future," G2A says in a statement, as reported on Eurogamer. "We want to reassure the development community that we monitor our marketplace extensively for any possible fraudulent activity."
As Eurogamer's Wesley Yin-Poole notes, G2A is "making all the right noises" with these policies. While a 10% cut is pretty small, especially when the game keys are already being sold for a fraction of their list price, the other changes mentioned -- transparency and a vow to continue cracking down on fraudulent sellers -- will no doubt mean a lot to many of publishers and developers. It won't please everyone, especially those with lingering concerns for G2A's ability to identify and deal with scammers, but it's a great start.
And G2A is wasting no time in rolling out its new policies, with the first changes expected to take effect as early as July 29th. The overall discussion on gray market versus piracy may continue, but G2A's willingness to change its public position -- and so quickly -- will go some way in building up a new rapport with the people designing the games on its site.
(h/t Eurogamer.)
31
Aug
ucabal2 - FIFA 17 PC Specs
Posted August 3rd at 10:00am. The PC version of FIFA 17 launches on September 27 in North America, or September 22 for Origin Ac...
01
Jun
Chris Metzen on Warcraft Set, Demon Hunter Armor In Dressing Room, Kinndy Sparkshine in Legion - ucabal2.com
For today's news, we have some Legion updates as well as movie features. Our Legion Dressing Room now supports special armor variations for Demon Hunters, Kinndy Sparkshine from Tides of War has a tri...